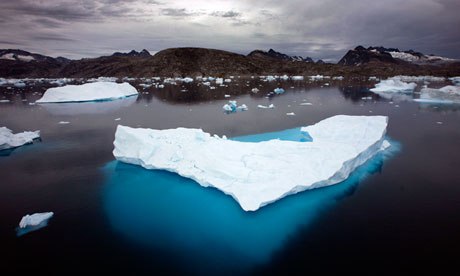 photograph by John Mcconnico/AP and courtesy of The Guardian
The UK Guardian reports that a global disaster is unfolding in the northern latitudes, with an Arctic ice expert predicting that the Arctic sea ice will collapse within 4 years.
The cause is global warming
which causes less ice growth during the winter and more ice melt during the summer.
One of the world's leading ice experts has predicted the final collapse of Arctic sea ice in summer months within four years.

In what he calls a "global disaster" now unfolding in northern latitudes as the sea area that freezes and melts each year shrinks to its lowest extent ever recorded, Prof Peter Wadhams of Cambridge University calls for "urgent" consideration of new ideas to reduce global temperatures............................................................
The main cause is simply global warming: as the climate has warmed there has been less ice growth during the winter and more ice melt during the summer.

"At first this didn't [get] noticed; the summer ice limits slowly shrank back, at a rate which suggested that the ice would last another 50 years or so. But in the end the summer melt overtook the winter growth such that the entire ice sheet melts or breaks up during the summer months.

"This collapse, I predicted would occur in 2015-16 at which time the summer Arctic (August to September) would become ice-free. The final collapse towards that state is now happening and will probably be complete by those dates".

Wadhams says the implications are "terrible". "The positives are increased possibility of Arctic transport, increased access to Arctic offshore oil and gas resources. The main negative is an acceleration of global warming."

"As the sea ice retreats in summer the ocean warms up (to 7C in 2011) and this warms the seabed too. The continental shelves of the Arctic are composed of offshore permafrost, frozen sediment left over from the last ice age. As the water warms the permafrost melts and releases huge quantities of trapped methane, a very powerful greenhouse gas so this will give a big boost to global warming."